A Guide To Remote Workforce Management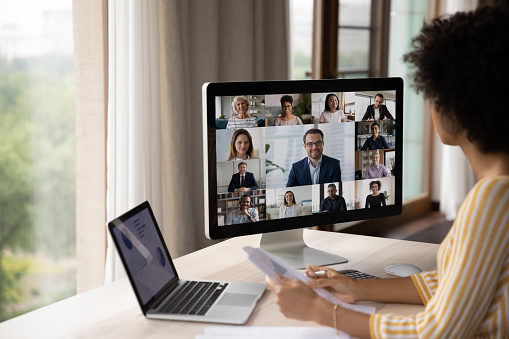 Everyone wants to work remotely. It's a millennial-driven trend and a growing movement. Remote work is fast becoming a new normal, driven by greater adoption of virtual collaboration tools and mobile devices, as well as changing work culture that values flexibility and balance and it's a great way to attract top talent. Nevertheless, remote work is not without its challenges. It requires hiring people you won't be able to see every day, which means you need to find another way to manage them effectively without sacrificing productivity or quality of work.
What is remote workforce management?
Remote workforce management can be a smooth and productive experience that makes your company more efficient, lowers costs, and creates happier employees. It is the set of processes and systems used to manage an employee who works remotely. It involves all the different tools, strategies, and techniques you use as an employer to keep tabs on how your remote workers are performing, what they are working on, where they are working from, and how often they are working.
To manage remote workers effectively, businesses need to implement a remote workforce management system (WFMS). This type of system optimizes processes, automates routine tasks, and standardizes policies related to telework. A WFMS can help your organization reduce costs associated with employee travel, improve security measures for employees working from home, monitor adherence to company policies around telework, and streamline onboarding processes for new hires who will be working from outside the office.
This remote workforce management guide will give you an introduction to this emerging field as well as tools and tips on how to implement it effectively as part of your company's operations strategy.
Recruiting remote talent for your company
Remote work isn't right for everyone, so be sure to carefully screen your candidates and select people who will be comfortable working remotely. When screening candidates, include their feelings about remote work as part of the interview process. Ideally, you'll want to ask if they have any experience with remote work and if they feel comfortable with it. If not, you can address potential concerns about remote work and let candidates know about the benefits of being able to work remotely. You should also ask candidates about their availability. Find out if they have dependents or other factors that might prevent them from working certain hours or days. Using services like Geria, you can build an effective distributed remote workforce.
Remote employee onboarding
New hires will need a little extra help getting oriented to your company's work structure system. To make the transition easier, you can put together an onboarding program for new hires. The onboarding program helps new hires settle into their new roles and work with ease. It can be tailored to the role a new hire is taking on so that he or she knows exactly what is expected of them and what they need to do to get started. Depending on the type of work your new hires will be doing, you may need to put together an additional training program. For example, if your remote workers are customer service representatives, they'll need to be trained on how to handle customer complaints effectively.
Establish your company culture and expectations
When you're managing remote workers, you need to make sure they feel welcome and part of the team. One of the best ways to do this is to create a company culture that extends beyond the office and into workers' other interests. It is a good idea to clearly state your company values from the start to help them understand what you expect from them. Onboarding programmes are effective ways to help new hires feel comfortable and welcome in the company as well as familiarize them with your remote work policy. You can also use communication channels like video calls and chat apps to make sure they feel just as connected to the team as their in-office colleagues. Let remote workers know they can also participate in office events like off-site meetings through virtual collaboration tools as well as take advantage of other perks that let them feel like part of the team.
Tips For Effective Remote Workforce Management
As you manage your remote workers, keep the following tips in mind:
1. Be clear about your expectations – Your remote workers won't be able to read your mind, so make sure they know what you expect of them. Give them timelines for projects and let them know when they're doing a good job. You can use project management tools like Asana, Jira, Trello, Slack and more to achieve this goal.
2. Be transparent – Make sure your remote workers know how the company is doing, including its financial health and corporate goals. This will help them feel invested in the company and motivated to do their best work.
3. Create effective communication channels – Make sure your remote workers have the tools they need to communicate effectively with coworkers and clients. If you use text or video chat apps, make sure everyone has each other's contact information in case a problem arises. Some tools like; Microsoft teams, Zoom, and Google meet can come in handy.
4. Manage remote workers like employees – You'll need to put in a little extra effort when managing your remote workers at first, but it'll be worth it in the long run. Remember that remote workers are just as valuable as in-office employees, and treat them as such.
How to Become a Successful Manager
By this point, you have the right level of knowledge to become a successful manager of a remote workforce. However, implementing the tips and strategies you've read about will be easier if you follow these three simple steps:
1. Assess your situation – First, assess your situation and make sure you're ready to manage a remote workforce. Make sure your existing employees will be comfortable working remotely, and select candidates who will be able to thrive in a remote work environment.
2. Find the right tools – Next, find the right tools for managing your remote workers. Look for collaboration tools that will help you stay connected to your remote workers, and put together a remote onboarding program to make sure new hires are comfortable and productive from day one.
3. Stay consistent – Finally, stay consistent with your remote workforce management strategy. Remote workers can be easily overwhelmed, so don't expect them to be just as productive as in-office employees.
Top effective tools for managing remote workers
These 5 top tools are curated for you to help your company manage remote workers effectively.
Slack
With Slack, you can collaborate and communicate with your team in one place, regardless of whether you work for a large company or a small one. You can create team, project, and topic channels where you can share related messages and files. Slack also allows one-to-one conversations. Besides text messages, Slack also supports voice messages, voice calls, and video meetings.
Asana
Asana is a cloud-based project management solution that helps businesses manage, collaborate, communicate, and organize their projects. Designed for handling multiple projects simultaneously, it can accommodate any size of business. There are options for creating tasks, assigning them to individuals, and interacting directly with them. Asana keeps files, instructions, and other details together for easy management.
Microsoft Teams
Microsoft Teams is a collaboration app that connects you with your team and keeps you informed and organized. You can use it to chat, share files, or make video calls. Screen sharing and virtual whiteboarding are also features that help you explain your ideas in-app.  Additionally, Teams seamlessly integrates with Microsoft Office Suite. So, your team can collaborate easily, and you can check the progress anytime.
Time Doctor
Time Doctor is an employee time-tracking software that helps you and your team get a lot more done each day. With Time Doctor, you can create tasks, assign projects to different members of your team, and monitor their progress. Also, you can improve team efficiency and productivity by analyzing summary reports. To help you understand how your team is working, Time Doctor provides regular screenshots and usage reports.
G-Suite
G-Suite consists of a suite of integrated apps for managing projects remotely. It has online tools for saving and editing documents and spreadsheets. In addition, G-Suite provides access to shared team calendars. It can help you keep track of key events and reminders. It also facilitates quick notes, meetings, and chats with individual team members.
In conclusion, the benefits of hiring a remote workforce are seemingly endless. You can access a larger pool of candidates, get a higher return on your hiring investment, reduce commute times, and eliminate distractions. Unfortunately, not all employees are cut out for remote work. To hire and manage a remote workforce, you need to find and hire candidates who are comfortable working remotely. You'll also need to implement remote workforce management systems to make sure your remote employees are happy and productive.