9 Tips for a Successful Remote Job Interview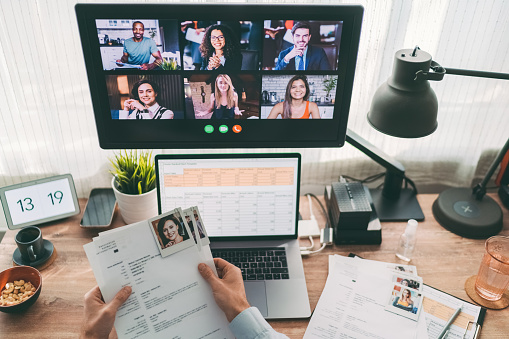 Remote interviews are becoming more common as companies strive for greater employee flexibility. Remote workers must be able to demonstrate their worth in a remote interview, just as they would in an in-person interview. Remote interviews can be challenging because there is no face-to-face contact and they differ slightly.

This article will go over the most important things you should know before going on a remote job interview. We'll look at what you should do before, during, and after your interview. Starting your exploration into remote job interviews with these tips will ensure that you get the remote job of your dreams.
Also Read: 5 tips to help you land your remote tech job
Before the Interview
One of the most important steps in the process of finding a new job is preparation. It is important to prepare for the interview and make sure that you are ready and confident. Let's look at how you can prepare yourself before the interview:
Prepare for the interview: Going into a remote interview, the first thing you should do is research the company and what they're looking for in candidates. This will enable you to prepare questions and topics that will demonstrate your abilities and knowledge of the company. Also, practice responses to frequently asked interview questions and be strategic in giving your response during the interview.
Set up your equipment: For you to participate in a remote interview, a few basic things must be in place and operational. You should make certain that you have the necessary equipment. This includes your computer, microphone, and a reliable wireless internet connection. You don't want to get into the interview unprepared as this will speak greatly of your personality.
Choose your environment: The environment in which you conduct a remote interview can have a substantial impact on the interview's outcome. You must create an environment in which you feel comfortable during the interview process, such as trying to eliminate background noise, a well-lighted environment, having a good internet connection, and having all of your files ready ahead of time. To ensure that you get the most out of your interview, the environment should be comfortable and free of distractions.
Despite being remote, dress professionally
Dress comfortably and professionally, and wear clothing that won't distract you from the interview. Make sure your hair is properly styled, and pay attention to your body language. You want to be engaged while maintaining a natural posture.
Also Read: How to build a distributed engineering team effectively
During the Interview
Interviewers are not just looking for skills and experience. They also want to know how you will fit in with the company culture. They want to see that you're a good fit for them. Here are some tips you can do to show that you're a perfect fit for the company during your interview:
Be confident and maintain eye contact: In a remote interview, it is important to be confident and maintain eye contact with the interviewer. It will help you build rapport and trust with your interviewer. Make sure that you are self-confident and not shaky. You would also want to have a good posture and speak clearly. Maintaining eye contact will also help you make a better impression on the person interviewing you.
Rather than convey a monologue, spark conversations: During the interview, in other to make it feel like a conversation, you need to spark it. You should avoid a long play of words from your interviewer alone, ask questions as this will help build your confidence. You should also avoid talking too much about yourself and instead focus on the company and what they do. This will portray your interest in the company and will help you in understanding what they seek in an employee.
Take notes during the interview: One of the best things about a remote interview is that you can bring anything into the remote interview without the interviewer seeing it. Taking notes during your remote interview is an excellent way to maintain focus and engagement. It also aids in remembering the specifics of the conversation for future reference. You can also keep notes nearby to glance at when you want to back up your arguments with facts.
Also Read: How to Effectively Onboard Remote Developers
After the Interview
After the interview, here are some tips to keep you on track in getting that dream job:
Thank the interviewer for their time: Thank the interviewer for scheduling a meeting with you. Keep your message brief so that it is more likely to be read. To help the interviewer remember you, try to include something memorable from the interview. Let the interviewer know how enjoyable it was to learn about the team and position, and how excited you are to join and add value to your team.
Send a follow-up email: Following up is one of the most important parts of the hiring process. In your follow email, show respect and gratitude for the interview, keep your message short and say what you may have forgotten to mention during the interview. Most especially, monitor your email to avoid missing any important update from your interviewer.